<!-Google Adsense Start-> <!-Google Adsense End->
Smart Entry Exit - Premium Indicator
Modified on Sat, 24 Sep 2022 at 02:29 PM
<!-Google Adsense Start-> <!-Google Adsense End->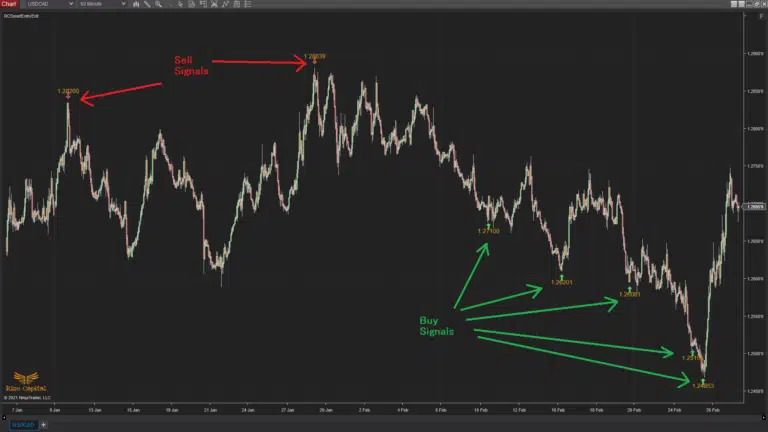 Image - 1 (Click to ZOOM)
This Smart Entry Exit indicator is custom programmed by Rize Capital for NinjaTrader 8 trading platform. It's algorithm is smart enough to calculate current and historical market data and to plot 'Buy' & 'Sell' signals on the chart. This indicator works on all instruments; but on intra-day and daily time frames only. It is recommended to load min 30 days' data on chart for accurate functioning. If you are using a chart time frame other than what is advised above, it will show reminder message on chart to correct time frame. In Image -1, you can see how it plots both 'Sell' and 'Buy' signals; which are marked with red and green arrows respectively.
| | |
| --- | --- |
| | |
| Image - 2 (Click to ZOOM) | Image - 3 (Click to ZOOM) |
In Image – 2, you will have the option to input your desired Period, Smooth and Text Color settings as you desire and find it suitable (red rectangle). But it is recommended not to change the default settings of the indicator which is marked with white rectangle in Image -3 for accurate functioning of this indicator.
If you still have any further query, please do watch the video tutorial by clicking here.
<!-Google Adsense Start-> <!-Google Adsense End->
Was this article helpful?
That's Great!
Thank you for your feedback
Sorry! We couldn't be helpful
Thank you for your feedback
Feedback sent
We appreciate your effort and will try to fix the article