<!-Google Adsense Start-> <!-Google Adsense End->
Absolute Delta - Premium Indicator
Modified on Sat, 24 Sep 2022 at 02:57 PM
<!-Google Adsense Start-> <!-Google Adsense End->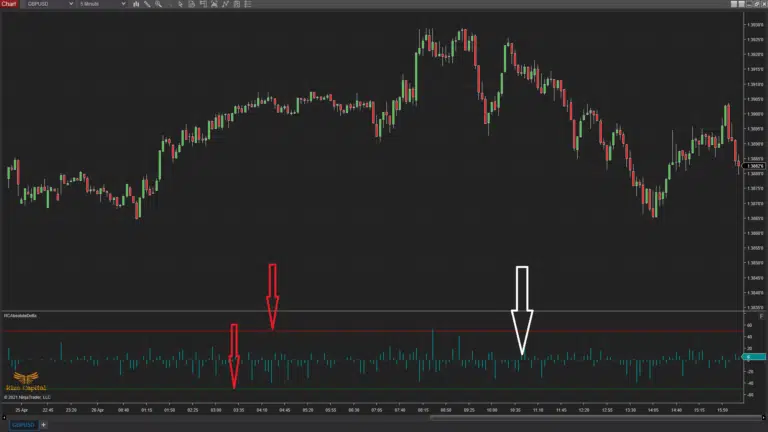 Image - 1 (Click to ZOOM)
Absolute Delta, custom programmed indicator for NinjaTrader 8, plots delta values of each bar like it shown with down white arrow in Image -1. Absolute delta indicator will give you exact picture of live winner between buyers and sellers on every tick. This indicator requires NinjaTrader 8 Life Time licence. If your data provider provides tick data, then you can test this indicator on market replay as well to find best settings for your strategy. This indicator also plots Upper and Lower lines, as pointed with down red arrows in Image -1, to give you an idea about how extreme of the delta value is compared to other bars'.
| | | |
| --- | --- | --- |
| | | |
| Image - 2 (Click to ZOOM) | Image - 3 (Click to ZOOM) | Image - 4 (Click to ZOOM) |
Now it is recommended not to change some default settings which is marked by red rectangle in Image -2; unless you know how these changes may affect this indicator's plots and calculations. If you want to change the color, dash styles, values, width of upper and lower lines, you can do that from the 'Lines' settings as marked with white rectangle in Image -3. Besides, if you want to change the color, styles etc of the delta plot, you can also customize that from the 'Plots' section of the settings as well (Lime green rectangle, Image -4).
If you still have any further query, please do watch the video tutorial by clicking here.
<!-Google Adsense Start-> <!-Google Adsense End->
Was this article helpful?
That's Great!
Thank you for your feedback
Sorry! We couldn't be helpful
Thank you for your feedback
Feedback sent
We appreciate your effort and will try to fix the article