<!-Google Adsense Start-> <!-Google Adsense End->
Initial Balance with Extension Levels - Free Indicator
Modified on Sat, 24 Sep 2022 at 10:06 AM
<!-Google Adsense Start-> <!-Google Adsense End->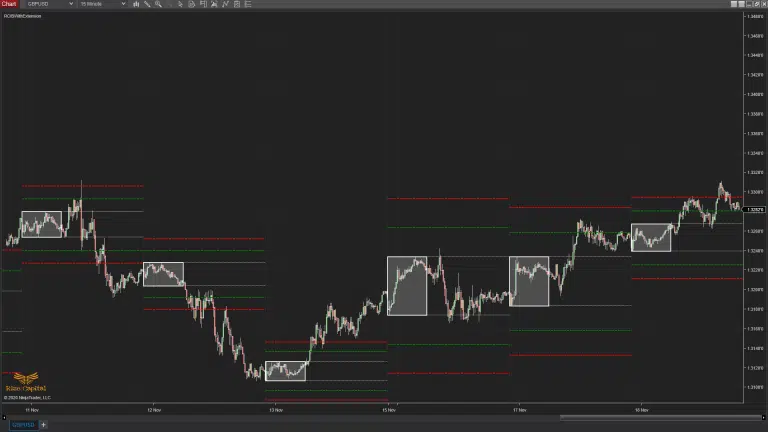 Image - 1 (Click to ZOOM)
This absolutely free custom NinjaTrader 8 indicator is developed for traders like you who want to trade using opening range / initial balance of the session regardless of market instrument. This FREE indicator not only plots initial balance at your desired time, it keeps developing as time progresses; but as soon as opening range time ends, it stops plotting. Two extension levels also plotted to give you indication of highly likely bounce back levels which is respected by the market. Best part of this indicator is, those extension levels are drawn during the opening range and never changes later. Therefore, very early in the session you know the levels to be careful of. This indicator only works on intraday TF charts at the moment, but works on any financial market instrument. You can see how it plots both current and historical Opening range / Initial Balance with extension levels on either side of the IB in Image – 1 on your chart.
| | |
| --- | --- |
| | |
| Image - 2 (Click to ZOOM) | Image - 3 (Click to ZOOM) |
Now, by default this indicator plots IB with extension levels for every day, but if you want to plot any specific day(s) only, then like Image -2 you can remove the tick from "Repeats daily" option and select the day(s) which you want the plots for. This option is shown with red rectangle in Image – 2 and red down arrows show that it plots only selected days. Now point to remember, days will be calculated based on your start time (shown with white arrow in Image -2).
Not every instrument or financial market session open range or initial balance times are same; thus you may need to customize the start and end time and that is possible by changing the time as you wish from the start and end time which is highlighted with red rectangle in Image -3.
| | |
| --- | --- |
| | |
| Image - 4 (Click to ZOOM) | Image - 5 (Click to ZOOM) |
Based on your chart color or platform skin, you can customize the color of the IB or opening range plot like shown with red arrow in Image -4. Currently it is selected as white by default and you can see IB/opening range plot which is also shown in the same image with red down arrow. Now if you don't want to plot IB/ opening range, but just want to plot the green and red extension levels, then you can simply select transparent color which will plot transparent IB and only extension levels to be visible. You cannot customize the extension levels' colors, those are set as green and red by default. And also depending on your choice, you can change the opacity of the plot of IB on your chart from the "Opacity" option shown with red arrow in Image -5.
| | |
| --- | --- |
| | |
| Image - 6 (Click to ZOOM) | Image - 7 (Click to ZOOM) |
If you want, you can remove the outline from the IB plot like the Image – 6 shown with down red arrow, but to do that you will need to remove the tick from "Show Outline" option from the settings which is marked with a red right arrow. By default it plots the outline with the same color of the IB plot. It is recommended to keep the default rest of the settings as it is highlighted with red rectangle, like Image- 7, to proper execution of the indicator as intended.
If you still have any further query, please do watch the video tutorial by clicking here.
Additional Parameters (For paid subscription):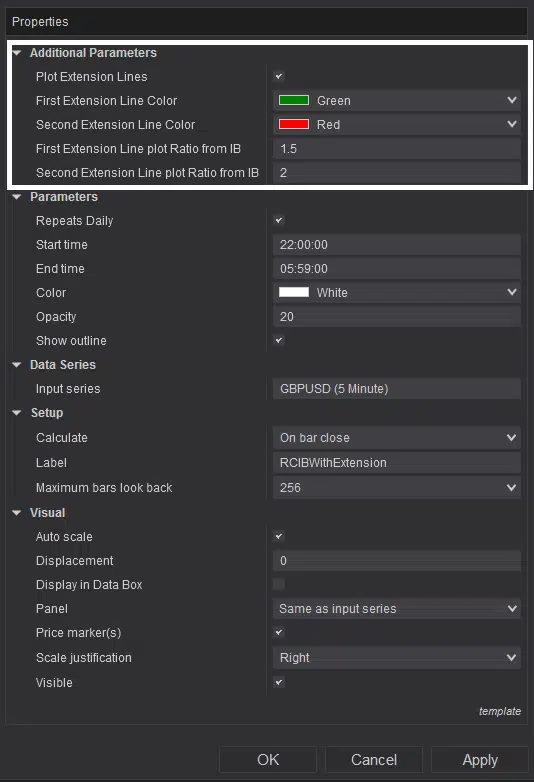 Image - 8 (Click to ZOOM)
Additional parameters which are highlighted within white rectangle in Image – 8, will provide the users access to additional parameters required related to extension levels and customizing it's plots. If user doesn't want to plot the extension levels, then simply un-check the 'Plot Extension Lines'. If user decided to change the colors of both extension levels based on chart background, can be done from 'First Extension Line Color' and 'Second Extension Line Color' parameters in the settings. Now, if user wants to change where the extension levels are plotted, as different instrument may have different volatility, can also be managed from 'First Extension Line plot Ratio from IB' and 'Second Extension Line plot Ratio from IB' parameters. Point to be noted, values entered in these two parameters will multiply with IB range and plot the respective extension level away from IB automatically based on those entered ratio values. This feature is not available within free version, but you can subscribe to this feature of Additional Parameters from 'Additional Feature Subscription' section. After you subscribe to this, send email to support@rizecap.com with your machine id and Indicator name. Please mention, 'Additional Feature subscription details for Initial Balance With Extension Levels Indicator' – in the subject of the email. To subscribe this 'Additional Features', please click here.
<!-Google Adsense Start-> <!-Google Adsense End->
Was this article helpful?
That's Great!
Thank you for your feedback
Sorry! We couldn't be helpful
Thank you for your feedback
Feedback sent
We appreciate your effort and will try to fix the article