<!-Google Adsense Start-> <!-Google Adsense End->
Multiple EMAs - Free Indicator
Modified on Sat, 24 Sep 2022 at 11:26 AM
<!-Google Adsense Start-> <!-Google Adsense End->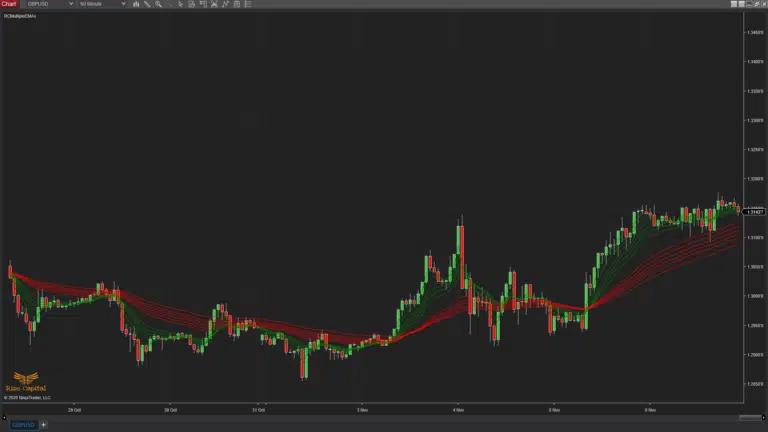 Image - 1 (Click to ZOOM)
This NinjaTrader 8 custom FREE for LifeTime indicator is programmed by Rize Capital for Traders who want to use it for both short and long term trading and investment. As this indicator is FREE forever, you can subscribe it without any obligation. This Free indicator by default plots EMA lines for user on the chart so that you can see short term trend (Green Lines, Image -1) and longer term investors' trend (Red Lines, Image – 1). This indicator can be used on any financial instrument and any time frame. This indicator is very useful to see overall market trend, regardless of TF used, at a glance. You will also see how the Green lines are bounced on the longer term Red lines whilst trending market; and when the market is choppy or sideways, all the lines will be squeezed together. The more the lines have gaps between them, stronger the market trend.
| | |
| --- | --- |
| | |
| Image - 2 (Click to ZOOM) | Image - 3 (Click to ZOOM) |
By default it plots short term trend lines in Green and Long term investor lines in Red, like Image -2. But if you want to customize the colors, you can always change line plots including color, style, width etc like Image -3, depending on your choice. Instead of using only two types, you can even make your own bands of Lines and set colors according to that.
| | |
| --- | --- |
| | |
| Image - 4 (Click to ZOOM) | Image - 5 (Click to ZOOM) |
Now, if you don't need to plot all the lines or if you want to get rid of some of individual line(s), you can change the color to transparent, like Image -4, only for those specific line(s). Those lines are not visible because of the color you chose, but they actually are plotted, but the colors they are plotted with is transparent. By default, it does not plot price markers at the right margin of the chart, which is shown by Blue arrow in Image -5. But if you want to plot the price markers, you can select to show price markers by selecting the option marked in Red rectangle in Image -5 in the indicator settings.
If you still have any further query, please do watch the video tutorial by clicking here.
Additional Features (For paid subscription):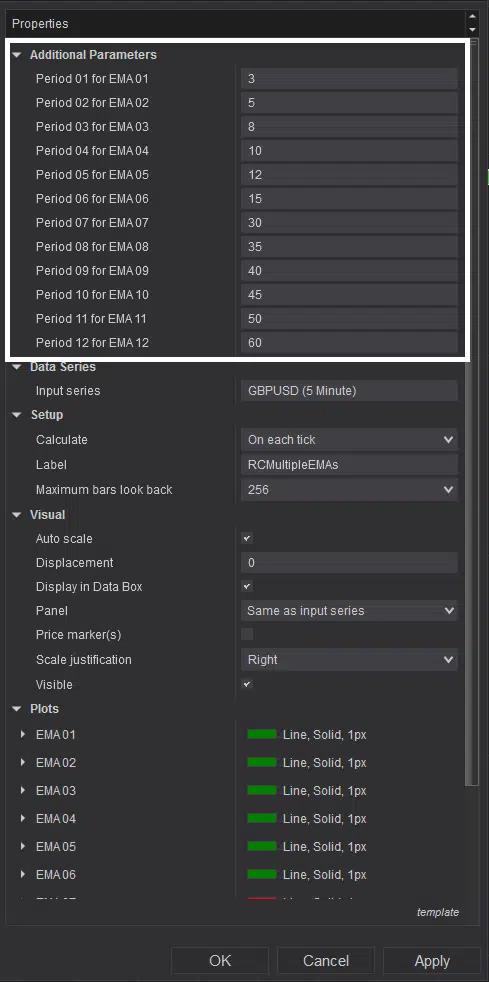 Image - 6 (Click to ZOOM)
Additional parameters which are highlighted within white rectangle in Image – 6, will provide access to periods of all the EMAs plotted on chart after adding this indicator. This features is not available within free version. You can get access to these parameters by subscribing to 'Additional Features' from 'Additional Feature Subscription' section. After you subscribe to this, send an email to support@rizecap.com with your machine id and Indicator name. Please mention, 'Additional Feature subscription details for Multiple EMAs Indicator' – in the subject of the email. To subscribe this 'Additional Features', please click here.
<!-Google Adsense Start-> <!-Google Adsense End->
Was this article helpful?
That's Great!
Thank you for your feedback
Sorry! We couldn't be helpful
Thank you for your feedback
Feedback sent
We appreciate your effort and will try to fix the article